Trailer /
Small vehicle transporter KFT
Vehicle transporter KFT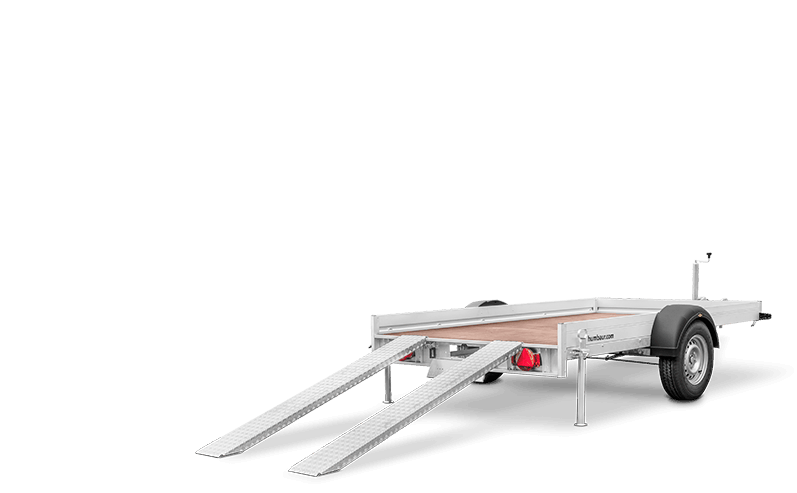 Compact transport trailer
Handles small cars or up to three motorcycles
i
V drawbar, hot-dip galvanised
i
Aluminium drop sides
150 mm hight
with 4 integrated lashing rings (tensile force 400 kg per lashing ring, tested by Dekra).
i
Humbaur multifunction lighting is integrated into the underride protection.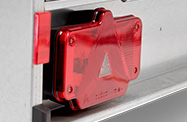 i
The equipment package for vehicle transport includes: mounted ramp shaft, 2 aluminium ramps and 2 sliding supports
i
The equipment package motorcycle transport includes: mounted plank shaft, 2 x motorcycle rocker (loose), 2 x connecting brackets (loose), 1 x motorcycle drive-up rail
i
Motorcycle rocker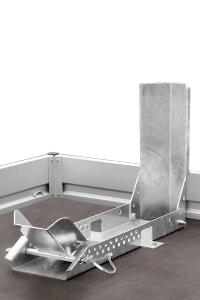 i
Lashing bracket, integrated in side wall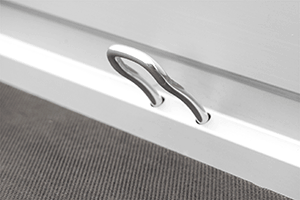 i
Optional sliding supports for safe parking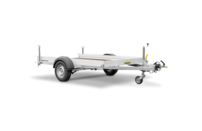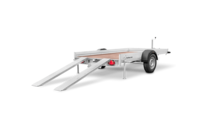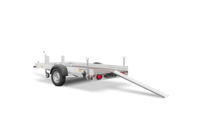 The KFT small vehicle and motorcycle transporter is available with two equipment packages that provide for either vehicle transportation or motorcycle transportation. The 'vehicle transportation' equipment package includes the mounted plank shaft and two aluminium ramps, along with two prop stands that can be used to stabilise the trailer during loading and unloading. The 'motorcycle transportation' equipment package includes the mounted plank shaft, two loose motorcycle stands, two loose connection brackets and a motorcycle loading ramp. A stand and connection bracket for a third motorcycle are available as an additional option. The aluminium sides are equipped with integrated tie-down hoops. The larger loading area also offers space for slightly larger vehicles or up to three motorcycles. When fitted with the optional 350-mm aluminium side, the Humbaur KFT becomes truly multifunctional, capable of tackling an even wider range of transportation challenges and competing with classic box trailers.
V drawbar, hot-dip galvanised
13 pin plug
Floor plate 15 mm thick
Aluminium drop sides
Multifunction lighting
Automatic jockey wheel
Equipment package for vehicle transport
Equipment package motorcycle transport
Motorcycle rocker
Lashing bracket, integrated in side wall
Optional sliding supports
Technical data
Small car and motorcycle transporters (up to 3 bikes)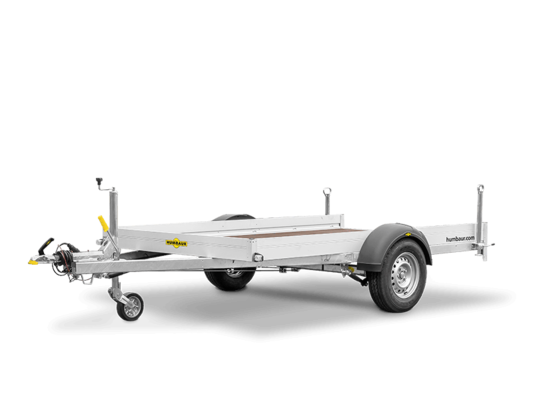 Inner height

150 mm
Total height

930 mm
Inner length

3.115 mm
Total length

4.445 mm
Inner width

1.765 mm
Total width

2.260 mm
Small car and motorcycle transporters (up to 3 bikes) Standard equipment
Hot-dip galvanised v-shaped coupling
13-pin plug, for max. gross above 751 kg with reversing light
15 mm thick base plate
Side panels and gates made of double-walled anodised aluminium
Lashing rings integrated in side panel profiles, traction force 400 kg per lashing ring, DEKRA tested
Humbaur multifuntional light integrated in underride barrier
Corner stanchions with plug-in option
Small car and motorcycle transporters (up to 3 bikes)

Models

Permissible gross weight in kg

1500

Body dimensions in mm (LxWxH)

4445 x 2260 x 930

Internal dimensions in mm (LxWxH)

3115 x 1765 x 150
Permissible gross weight in kg
1500
braked
Body dimensions in mm (LxWxH)
4445 x 2260 x 930
Tyre size in inches
14
Internal dimensions in mm (LxWxH)
3115 x 1765 x 150
Load capacity in kg
1196